Vacation rental investments can be a terrific way to boost your income or even replace your job as your primary source of income. By purchasing properties that you can rent out to vacationers, you have the potential to generate ongoing revenue from added rental fees.
With the popularity of vacation rentals soaring in recent years, there's never been a better point in time to think investing in this lucrative market. But where do you start?
This article provides a comprehensive overview of investing in vacation rentals and maximizing your return on investment.
We'll discuss why vacation rentals are profitable, how to start investing, and how to ensure you're maximizing your rental income.
Why Invest in Vacation Rentals?
Vacation rentals can be an excellent asset for several reasons. They offer a unique investment opportunity that can be both flexible and profitable.
When you invest in vacation homes, you enjoy a unique blend of personal and financial benefits. From personal enjoyment to portfolio diversification, passive income generation, and tax advantages, vacation home investments can provide short-term and long-term rewards.
Let's get a closer look at a few of the vacation home investing benefits:
Passive income generation: With vacation rentals, you can earn money from guests while you sleep, work, or travel the world. Vacation homes can generate substantial rental income, particularly in high-demand tourist destinations or peak travel seasons.
Tax benefits and deductions: A vacation property investment often comes with attractive tax advantages, such as deductions for mortgage interest, property taxes, and maintenance expenses. This way you can reduce your taxable revenue while increasing your cash flow.
Diversification of investment portfolio: Adding vacation home investments to your portfolio can help spread risk and increase potential returns. This can be mainly advantageous if you plan on retiring soon.
Potential for asset appreciation: Over time, well-chosen vacation rental properties may increase in value, providing an additional return on investment. This appreciation can hedge against inflation and contribute to your overall wealth-building strategy.
Personal Enjoyment: Whether it's a beachside villa or a cozy mountain cabin, owning a vacation home allows you to create lasting memories with family and friends while generating income from rentals during peak seasons.
How to Start Your Vacation Rental Investment Journey
Now you know the benefits and potential of investing in vacation rentals, it's time to start your journey. Ready to dive in? Here are the steps to start your vacation rental investment journey:
Step 1. Define Your Investment Goals
Before diving into the world of vacation rental investments, it's crucial to identify your specific goals and objectives.
Are you looking for short-term rental income, long-term appreciation, or a combination? Understanding your priorities will help you make informed decisions throughout the process.
Step 2. Research the Vacation Rental Market
Before making your first investment, doing the necessary research is essential. Understand the market and demand for vacation rental properties in your area. Focus on popular tourist destinations where you can maximize occupancy rates and profits. Here are other ideas:
See at what is happening in the market. See if you can discover any areas where it might grow.
Determine popular vacation destinations with high demand for short-term rental accommodations.
Decide on the vacation property that best suits your investment goals, such as condos, single-family homes, or multi-unit buildings.
Step 3. Choose the Right Location
The location of your vacation rental property is a crucial factor in determining its success.
Consider factors like proximity to popular attractions, accessibility to transportation options, and the neighborhood's overall appeal.
It's also essential to assess the local regulations surrounding short-term rental investments, as some areas may have strict rules that could impact your investment.
Step 4. Choose the Perfect Property
Choosing the perfect property is a big decision. There are various factors to think, such as location, size, price, and amenities. Here are some instructions for choosing the perfect property for you:
Size and layout: Properties with multiple bedrooms and bathrooms tend to attract larger groups and families, potentially increasing your rental income.
Amenities: Features like a fully-equipped kitchen, Wi-Fi, outdoor spaces, and entertainment options can make your property more appealing to potential renters.
Maintenance requirements: Evaluate the ongoing maintenance needs of the property and factor in the associated costs when calculating your potential return on investment.
Step 5. Vacation Rental Management and Maintenance
Vacation rental management and maintenance oversees a vacation rental property's promotion, rental, and maintenance.
This can be a hard and time-consuming process, but it can also be rewarding. By managing your vacation rental property effectively, you can maximize your rental income and ensure your guests have a positive experience.
Understand the importance of effective vacation rental management, from guest communication and bookings to maintenance and cleaning.
Explore available vacation rental management services or software solutions to streamline the process and maximize your rental income.
Establish a routine maintenance and repairs plan to keep your property in top condition and maintain its value.
Step 6. Secure Financing and Mortgage Advice
Once you know where you desire to buy and what type of vacation rental will assist you meet your goals, it is time to get money from a bank or other lender.
Getting secure financing and mortgage advice is essential if you consider buying a home. This help you make the best decision for your financial future.
You can also try the following:
Explore financing options, including traditional mortgages, home equity loans, and investor-specific loan products.
Consult with mortgage professionals for tailored advice on the best financing options for your situation.
Familiarize yourself with the application procedure and requirements to ensure a smooth and successful loan approval.
Step 7. Estimate Potential Rental Income
Before finalizing your investment decision, it's essential to calculate potential rental income based on average nightly rates, occupancy rates, and seasonal fluctuations.
This will help determine if the investment meets your financial goals and expectations.
Financing Your Vacation Rental Investment: Finding the Right Loan Solutions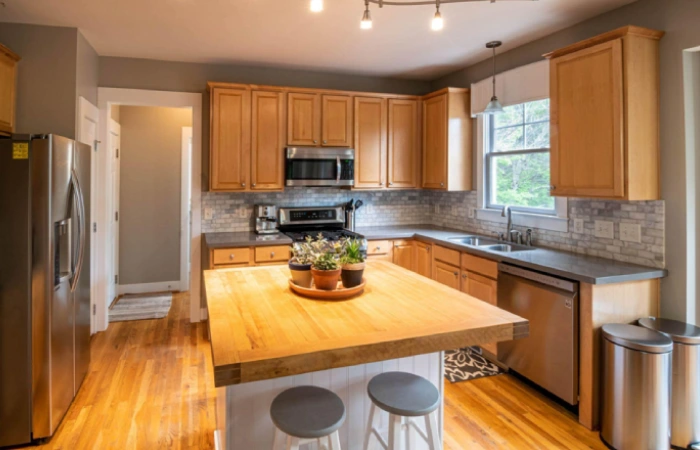 Securing the right financing for your vacation rental investment is crucial in home buying. Partnering with experts, such as a trusted mortgage broker specializing in investment mortgages, can help you navigate this complex landscape and find the best loan solutions tailored to your needs.
Expert Assistance in Financing Your Vacation Rental Investment
Mortgage brokers and financial professionals specializing in investment property financing can provide invaluable assistance in finding the right loan solutions for your vacation rental investment.
These experts deeply understand the unique requirements and challenges associated with investment properties and can guide you through the different loan options available to real estate investors.
With their extensive knowledge of the lending market, these professionals can help you identify lenders offering competitive rates and favorable terms for vacation rental investments.
They can also assist you in evaluating different loan products, such as fixed-rate or adjustable-rate mortgages, and determining which option best aligns with your financial goals and risk tolerance.
Unveiling the Potential of the Vacation Rental Market
The vacation rental market has experienced significant growth in recent years, driven by changing travel trends, the rise of online booking platforms, and an increasing interest in alternative accommodation options.
As a result, investing in vacation rentals has become an attractive option for many investors seeking to capitalize on this expanding market.
Growth and Changing Travel Trends
Travelers today are increasingly seeking unique, authentic experiences and the comforts of home while on holiday.
This preference shift has contributed to the growing popularity of vacation rentals over traditional hotel stays.
Additionally, the rise of remote work and flexible working arrangements has further fueled the demand for vacation rentals, as more people can now work from anywhere, leading to extended stays in desirable locations.
Impact of Online Booking Platforms
Online booking platforms like Airbnb and VRBO have revolutionized the vacation rental industry by making connecting with potential guests easier for property owners.
These platforms offer user-friendly interfaces, secure payment systems, and comprehensive review systems that help build trust between hosts and guests.
As a result, the vacation rental market has become more accessible to property owners and travelers, contributing to its rapid growth.
High Occupancy Rates in Popular Destinations
In popular vacation destinations and during peak seasons, vacation rentals can enjoy high occupancy rates, significantly contributing to their financial success. Increased demand for accommodations in these areas allows property owners to command premium nightly rates, boosting rental income and return on investment.
Factors That Make a Destination Attractive for Vacation Rental Investments
When considering a vacation rental investment, evaluating factors that make a destination attractive to potential guests is crucial. Some of these factors include:
Local attractions: Proximity to popular tourist attractions, such as beaches, national parks, or cultural sites, can increase the appeal of your vacation rental property.
Amenities: Access to amenities like restaurants, shopping centers, and entertainment options can enhance the guest experience and make your property more desirable.
Year-round demand: Destinations that offer year-round appeal, such as those with a mix of seasonal attractions or a stable climate, can help maintain consistent occupancy rates and rental income.
Making the Most of Your Vacation Property Investment
To create the most of the return on your vacation rental investment, focusing on providing exceptional guest experiences, investing in professional photography, creating compelling listings, and using dynamic pricing strategies is essential.
By providing exceptional guest experiences, you can encourage positive reviews and repeat bookings. This will help to attract more renters and increase your occupancy rates.
Vacation Rental Management: A Key to Success
Effective vacation rental management is crucial to the success of your investment. Here are a few tips for administration your property like a pro:
Stay organized and responsive regarding guest communication, booking inquiries, and handling any issues that arise during a guest's stay.
Consider using a professional vacation rental management service or software solution to streamline the process and make sure a high level of service for your guests.
Regularly assess the performance of your vacation rental, making adjustments to your marketing, pricing, and management strategies as needed to maximize your return on investment.
Conclusion
Investing in rental properties allows you to earn passive income, diversify your investment portfolio, and use the property for personal vacations.
Understanding different financing options, collaborating with knowledgeable investment mortgage brokers, and proficiently managing the vacation rental property is crucial for success in this market.
To increase your income and keep your guests happy, give attention to managing your property, devising good marketing tactics, communicating with guests effectively, and maintaining your property well.
Additionally, partnering with experts in financing and leveraging their knowledge and connections can help secure the most suitable loan solutions for your investment goals.
To succeed in the vacation rental market, making informed decisions, planning strategically, and managing diligently are essential.
Embracing these principles will enable you to capitalize on the growing demand for alternative accommodations and build a thriving vacation rental business.
By taking the actions indicated in this guide, conducting thorough research, and leveraging expert advice, you can confidently embark on your vacation rental investment journey.
So, what are you waiting for? It's time to start exploring the exciting world of vacation home investments!
Author- Abby Kaur