Digital marketing nowadays is ever-evolving. The changes are so frequent that what worked last year might not work this year for the marketing teams. That is why it's crucial to stay on top of the latest trends for digital marketing teams.  The last few years have been very unstable for the markets due to the endemic, agility, adaptability, and constant changes in the needs of people. This has happened not in a few but in every sector, irrespective of their size and type. To meet these uncertain market conditions, the markets have become more modernized, adaptive, and smarter than ever before.
Every year we witness new digital marketing trends that blow our minds. As we are already halfway past 2022, let's discuss some of the top Digital Marketing trends for 2023 that make sense for marketers.
1. Personalized content will gain more importance.
These are a few of those trends that will shape the future of the digital marketing landscape. In 2023, we will witness the importance of personalized content marketing. It will become increasingly important as customers continue to become savvier. When the content is personalized for the audience, they are able to respond in a better way.
This doesn't mean that marketers have to customize their content for every customer, but they must develop their content more carefully for every segment and target audience. One size fits all is not relevant anymore in 2022.
According to the report by McKinsey & Company, 78% of consumers are more likely to make repeat purchases from brands that personalize. These customers highly recommend the brands to their friends and relatives. This clearly shows that the demand for personalization is increasing.
Digital marketing offers many more opportunities for personalization than traditional marketing. Marketers can target their users to see your advertisements and track their journeys.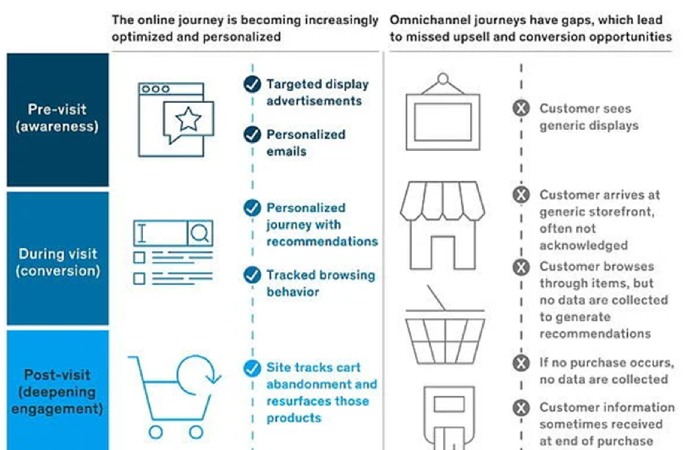 A few tips:
Understand what engages customers with your site and then achieve intent-driven personalization.
Increase your visibility by offering the personalization of search results to users.
Develop transparency, consider consumer choice, and take accountability for better personalization.
A report from McKinsey & Company shows (Source) that personalization directly influences buying behavior across the consumer life cycle.  76% of the consumers agreed that they are more likely to consider purchasing from the brands that personalize. 78% are more likely to recommend brands that personalize to friends and family, and the same percentage of consumers would like to repurchase from the brands that prefer personalization. This shows the demand for personalization.
Moreover, carrying out a personalized content marketing strategy can also help your business drive more organic traffic and, in turn, improve your conversion rates. However, if you want to get the most out of this digital marketing approach, you may think about combining content marketing with paid ads.
Generally, paid advertising refers to a strategy of placing advertisements on relevant platforms wherein the advertiser is willing to pay the platform owners for the clicks or impressions. When it's implemented along with the content marketing, you can expect for a more favorable result.
According to Grow and Convert, "The combination of content marketing and paid ads gives a short-term boost in traffic followed by long-term sustainable organic traffic that adds up from different articles and grows over time." If you want to obtain an increase in traffic, consider working with a content marketing agency for assistance.
Example
Let's check an intelligent example that shows how personalization in Digital Marketing works. The screenshot below shows how a travel company, "Luxury Escapes," sends an email to the user based on the locations searched for by the user on the website. The company sends a mail asking if the user is still dreaming of Rajasthan and encourages them to purchase a travel package to Rajasthan. This type of personalization helps to engage customers and increase sales.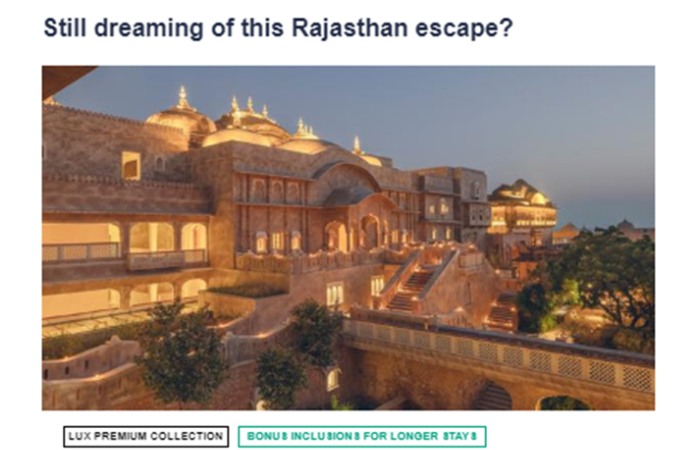 2. AI and Machine Learning will become more prevalent.
The use of Artificial Intelligence and Machine Learning has become more advanced, and they have become more prevalent in digital marketing as well. The use of AI and ML in Marketing has soared from 2018 (29%) to 2020 (84%), which is a huge jump. This is the reason why most young professionals are running after AI courses because AIML is everywhere these days. The quality of AI is that, even if it's not the same as human intelligence, it can grow and think like humans, and it's believed that it might surpass human intelligence in the future.
In Digital Marketing, Artificial Intelligence is used to create personalized content, automated tasks, and targeted ads. Businesses have started using AI and ML for their own advantage and to have a significant edge over their competitors. Some of the masterpieces that show the use of AI in Digital marketing are voice search in Amazon tailored suggestions, Google RankBrain (a system that lets Google better understand the user intent of a search query), and many more like these.
The Use of AI in Digital Marketing
AI has raised the Return on Investment (ROI) by developing better-performing content and letting marketers reach the proper target audience.
AI data-driven research is helping companies understand customer intent more accurately.
AI has assisted businesses in digitizing the monotonous and time taking jobs that reduce costs and increase revenues for the business.
AI assists in analyzing the customer buying patterns and actions that give a fair idea to the businesses about what the customer wants.
With the help of AI, marketing decisions can be made more quickly.
AI and ML improve customer experiences through chatbots and other AI/ML applications.
Examples of the use of AI and ML in Digital Marketing
Recommendations Systems: AI and ML applications in Digital marketing help in recommending products and services to the customers based on their search, interests, and behavior. Just like Netflix recommends what you should watch based on your watch history and search. Similarly, websites like Amazon recommend products based on your search history.
Chatbots: Chatbots are software programs known for discussing AI with humans and providing solutions. You may have used chatbots on many websites when you try to contact customer care with your queries. Through chatbots, companies can serve their customers 24*7, and this data can also be used for future use. Chatbots resolve about 80% of customer queries in a quick time. Chatbots are nowadays trained to send emails and messages and follow up on their own.
Content Creation: As content is king, every company needs content to market its brand. Creating content needs a lot of brain digging, and here is why machine learning has made the lives of marketers easier. Machine learning tools can be used to create content, improve your content, and help you post engaging stories and posts to attract target customers. The auto-correct feature also saves a lot of time in composing messages and emails and creates better customer engagement and experience.
Predictive Analysis: AI is used in Digital Marketing to make possible future projections. Here, the data is used to make proper future predictions. Brands make use of predictive analytics to identify their customer needs and increase their revenues. For example, Starbucks uses its loyalty card and mobile apps to analyze the available customer data and records past purchases, searches, and data, which helps them serve the customers even more personalized way.
3. Video Marketing- a powerful marketing tool
Video marketing is all about using videos to promote your products and services. It not only increases engagement but also educates customers about your products and services. Video marketing is a huge industry and plays a key role in the digital marketing industry. Those who have established themselves in the video marketing industry should know how powerful this tool is.
Now the question is why video, and the answer is very simple. The video content format is versatile and engaging too. It gives a clear picture of what is going on, and it is also very easy to share across multiple platforms. The customers like it because it is engaging and entertaining.  All you need is internet access.
Statistics of video marketing
Hubspot 97% of the marketers claimed that customers understood products better with the help of video marketing.
As per social media today, 90% of consumers say that videos help them in making a purchase decision.
Video marketing boosts conversion rates by up to 80%.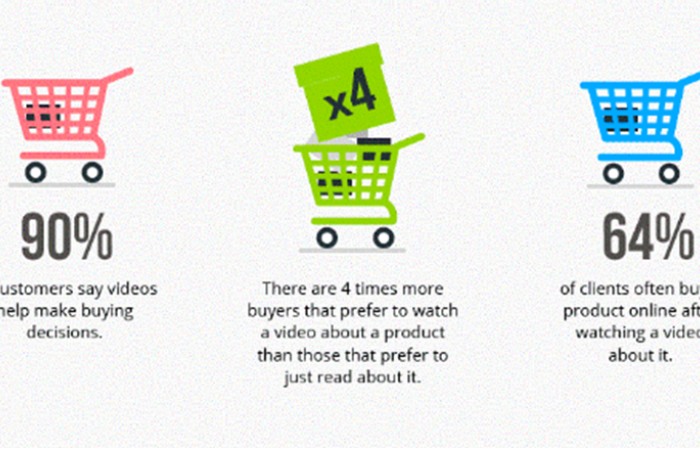 Examples of successful Video Marketing campaigns
Some brands have mastered the art of video marketing. They know how to tell a story and catch the emotions of the customers. One of those brands is Dove. Dive has released a video in which it asks several women to describe themselves to a forensic artist, and he sketches them without seeing them in real life. He then again sketched the same person after taking descriptions from others in the group.
The campaign was about "You are more beautiful than you think," and the sketches altered the women's perceptions of their own faces. The sketch with their own description was not as beautiful as the one that other people described. The video gained 69 million views.
Some exciting video marketing trends in 2022 include live videos, search-optimized videos, Vlogs, social media stories, and user-generated content. The videos can't do it alone. They need strong marketing strategies and compelling content that can engage customers and drive results.
If you want to ensure the success of your video marketing campaign, it is also important to identifyyour goals, understand your target audience by looking at their demographics, habits, interestsand needs, and analyze the competition to know what kind of video content works for them.
When it comes to video production, determine whether you want to maximize your own resources or work with a professional video marketing company to create engaging and useful video content for your business.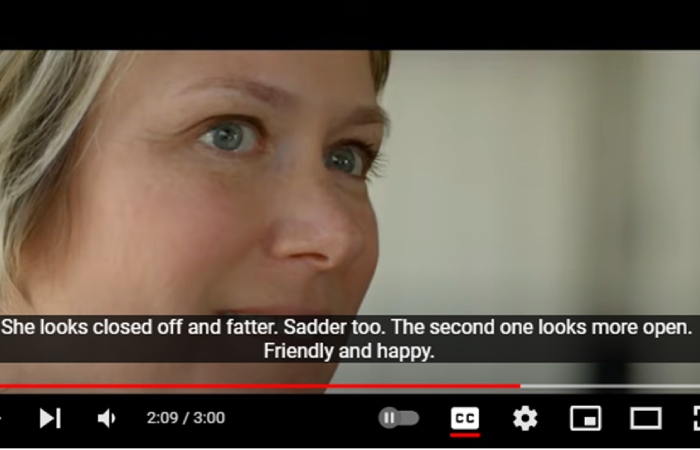 4. Influencer Marketing
The influencer marketing is then in the influencer's image, and goodwill is used to promote and market your protection services. These influencers can be individuals or groups who have a massive fan following. Influencer marketing has gained so much momentum as it can sway the audience and attract a diverse set of audiences as needed. It increases the fan base's trust and supports the company's content strategy. We have already witnessed the popularity of tik-tok influencers, especially with Gen Z.
Influencer marketing is still relevant and will be relevant in the future because that's how the audience bonds with their brands and establishes a human touch.
Influencer marketing can be implemented in different ways in 2023. For example, instead of using TikTok, one can use Instagram Reels. For the success of influencer marketing, the right audience, the right influencers, and the right tools are necessary.
It's important to choose the appropriate type of influencer marketing campaign to get organized and obtain a more favorable result.
One of the popular campaign options isaffiliate marketing wherein the influencer will create some content, add your link and invite the audience to click on it. Another option is sponsored content wherein you pay an influencer to create content for your benefit and post it on their social media or your own website.
Some statistics about Influencer Marketing
The influencer marketing industry is ready to grow by approximately $16 billion in 2022.
More than 75% of brands will dedicate a budget to influencer marketing in 2022.
80% of the branches engaged in influencer marketing use Instagram as a platform
LinkedIn is emerging as the platform for influencers and content creators, which includes executives, CEOs,, and other professionals. LinkedIn has also launched a creator mode that allows business leaders to show their expertise and build a community on the platform for a specific set of audiences.
Latest Trends of Influencer marketing that can work in 2023
Micro and Nano influencers
These are the influencers with not only a very high following but a very high engagement rate. They are not celebrities but their own mastery in a set of areas.
Nano influencers: having 100-10000 followers
Micro-influencers: having 1000-10000 followers
The brads should collaborate with the right influencers instead of running with fake celebrities.
Storytelling
Storytelling is the art of explaining a point through a story and connecting with the audience in a smart and emotional way. Half of the work is already done when the audience relates to the story. This is the new trend that will rule influencer marketing.
Audio and video content will be preferred
As 5G is spreading across the globe, influencers are also moving towards developing audio and video content instead of text content. Influencers on platforms like Instagram and YouTube are becoming more influential. Even on Facebook and Twitter, these famous influencers are sharing their videos and promoting their brands.
Live Shopping
This is a new trend that is going to change the way shopping experiences exist.  In live shopping, the key influencers promote products to their communities through interactive content.
Recently, Myntra has introduced live shopping features like Myntra Studio, in which celebrities and influencers promote their products, and the users get personalized feeds to shop. Myntra Studio provides exclusive content to its users to inspire them to shop or create a wish list to shop later on. You can see the below-attached screenshot of Myntra Studio. The influencers are sharing the looks that the users can purchase if they like.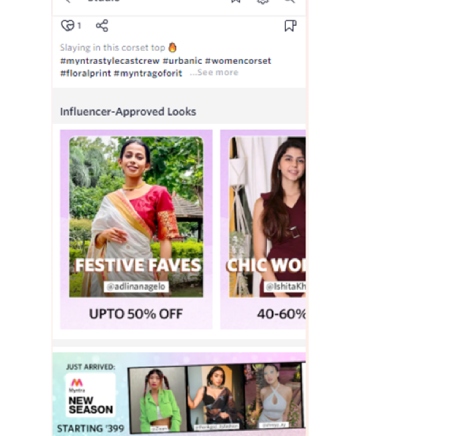 This trend is going to change the future of influencer marketing.
5. Storytelling
Storytelling is the art of using words to reveal the story elements and encourage the listeners to develop engagement. Storytelling is going to be the latest trend in digital marketing in 2023. Consumers are just tired of hearing about the brand itself. Instead of that, try telling real stories related to the brand to the customers that make them believe in the brand and make them think that you are better than the competition. It's not a direct way of selling but creates an urge in the customers to try your products and services.
You should always focus on creating a good story by using relatable characters, the best elements, and the authenticity of the story. That is how you can connect with your audience through storytelling.
Let's take an example from Apple. Apple has always had strong marketing campaigns. To promote the Apple iPhone 7 Plus, Apple used a story of a child's lost tricycle, named 'Detour' and an adventure field journey to get it back. This entire story was shot on the Apple iPhone7 Plus, flaunting many features of the phone like animation, underwater filming, time-lapse, and slo-mo.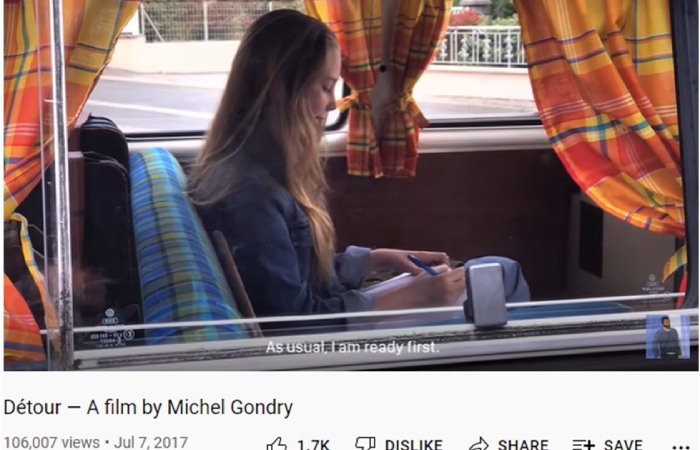 6. Social Media Shopping
Social media has helped a lot in developing interaction between businesses and customers, and it has proved to be a good medium to sell goods and services. Today, brands are using a combination of social media and digital media to digitally advertise their products and services.
According to Accenture, social media is expected to reach $1.2 trillion worldwide by 2025. This growth rate is surprisingly thrice that of traditional commerce. In 2022, social media apps are evolving themselves to provide a seamless experience for customers. On social media commerce, the millennials and GenZ are the ones spending the highest amounts. The platforms are partnering to make their shopping horizons huge. For example, TikTok has partnered with Shopify and is making huge developments in their app in the shopping area.
In 2022, TikTok might become the most important social network for marketing. It surpassed the 1 billion user mark in 2021 and was the 7th most popular social network in the world after Facebook, YouTube, Whatsapp, FB Messenger, Instagram, and Wechat. This is a big deal because the platform just had 689 million users in January 2021, which increased by 45% in 6 months. The below graph shows the increase in interest over time in TikTok.
TikTok has come up with many helpful business tools in 2020 and 2021, which might be the result of this spike.
Another trend in social media commerce is that the users will be expecting to buy directly from social media platforms instead of diverting to the website. The brands should focus on creating a Facebook shop or Instagram Shop to make the customer experience more seamless.
Due to the huge competition on social media, brands will have to invest in including the creators or influencers to promote their brand.
Create niche experiences and focus on personalized marketing to relate to the personalities of the audience.
Conclusion
Digital marketing has evolved a lot over the years. Some of the above-discussed trends could be game changers for you in 2023 and beyond. These trends are not only hard to ignore but are the best way to get your target customers in. Right from the use of Artificial Intelligence and Machine Learning in Digital Marketing to personalization and Video marketing, all the important aspects of digital marketing may change a little bit every year. Still, they will be an important part of digital marketing.
So, are you ready for digital marketing in 2023? Then learn about digital marketing course here.
Author Bio:
Akriti Galav is a Content Strategist with Great Learning and has over 7 years of experience in content marketing. She has a deep understanding of digital marketing, management, and other topics that create a lasting impact on the audience. She is an avid researcher and has a knack for finding the latest studies, reports, original research, and up-to-date information to include in her content.