Do you ever wonder how many businesses Facebook takes down each year? A news story from 2019 reported that Facebook between October and March removed almost 3.4 billion fake accounts! That's a staggering number, and it doesn't even include fake business pages.
With about 2.96 billion monthly active users, Facebook is a prime target for scammers. They create fake business pages to promote their products or services, often using stolen logos and images. Not only does this hurt the business whose identity has been stolen, but it can also mislead consumers into doing business with a fraudulent company.
So, how can you defend yourself and your business from this kind of fraud? How to report a fake Facebook business page when you see it? Read on to find out what you need to know about identifying and reporting a fake Facebook business page.
You'll also discover why it's essential to do this and what action you can take if your business page has been hacked. Without further ado, let's get started.
What Is a Fake Facebook Page, and How Can You Tell When You See One?
A fake Facebook page has been created to resemble your business but, in reality, is owned by a fraudster. It is created without the permission of the business or person whose name it uses. They usually copy logo designs and other visuals from legitimate pages and use them to create convincing-looking scam pages.
These fraudulent accounts often offer deals or services that seem too good to be true – and they usually are. They may also request personal information or attempt to collect payment for nonexistent products or services.
To identify a fake Facebook business page, there are several signs to look out for:
The page has few likes: It could be fake if a page has only a handful of likes. Although some bots-controlled accounts are set up to like pages automatically, this isn't a good indicator of the page's legitimacy.
The page has little or no content: Scammers rarely bother to post content on their pages — they only want your money. So if the page is mostly empty, it could signify something's wrong.
The page has a suspicious URL: Many fake pages are set up with URLs that don't match the business's real name. If you need more clarification, you can always check with the business to see if they have an official page.
The page has few reviews or comments: If a page claims to have been around for a while but has yet to have any customer reviews or comments, it could be fake.
The page has no contact information: A legitimate business will always provide some contact information. If the page doesn't list any details or an email address, it's best to be wary.
The page has no physical address: Without a physical address, it's harder to trust that the page is real.
The page uses generic stock photos: If all of the photos on the page look like they came from a stock photo website, they likely did. This is often a sign that the page is fake.
The page has grammar or spelling errors: While mistakes happen, if there are multiple errors, it might be a sign that it's not legitimate.
The page is filled with promotional material: If all you see on the page are ads and promotions, with little other content, the page is likely fake.
You can't find any information about the page online: A simple Google search can reveal a lot of information about most businesses. If you can't find anything about the page, it may not be real.
The page owner uses a personal account (rather than a business account) to run the page. While this isn't necessarily a sign that the page is fake, it's worth noting.
How to Report a Fake Facebook Business Page: Step-by-Step Instructions With Images
If you've identified a fake Facebook page, your first step should be to report it. How do you do this? Here's a step-by-step guide to help you report a fake Facebook business page:
Go to the offending Page to begin the reporting process.
Locate the three dots next to the Like button and select Report Page.
Click on the Find Support or Report Page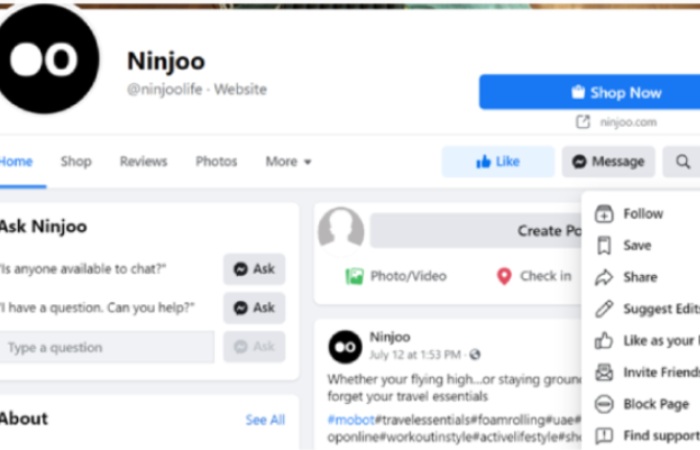 4. Select Scams and Fake Pages from the list to continue reporting.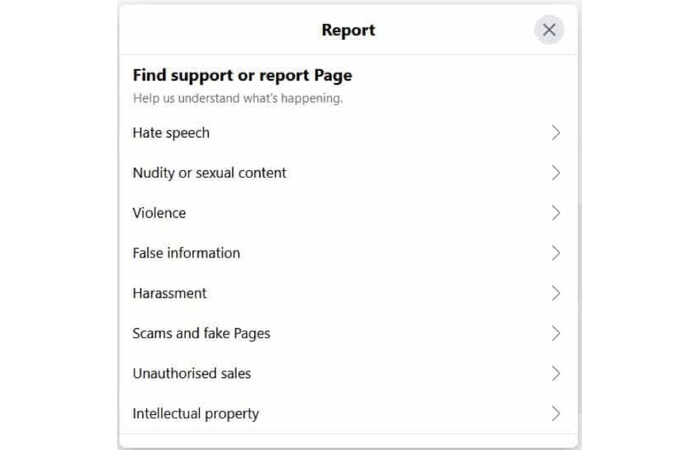 5. Select the reason for reporting this as a fake page.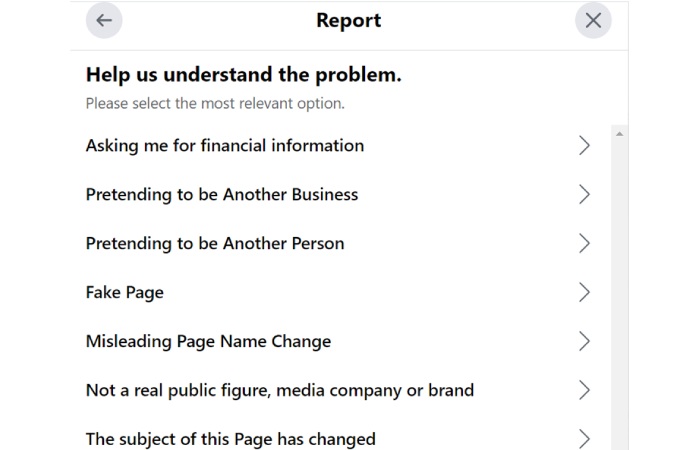 6. Enter the URL of your Facebook Page to assist with the inquiry.
7. Someone from Facebook will look into the problem. When the investigation is through, they will most likely remove or hide the Page.
Why Should You Report a Fake Facebook Business Page?
Reporting a fake Facebook business page is essential to protect you and other users from potential scams or fraudulent activities. So here are a few reasons why it's essential to report a fake page:
To protect your brand's reputation from being associated with a fake page.
To protect other users from being scammed or misled by the fake page's false claims and misleading content.
To protect your customers from scammy or fraudulent activities associated with the fake page.
To prevent the page's owner from using your brand to gain trust and credibility.
To ensure that the Facebook platform remains credible and trustworthy for all users.
To help Facebook identify and eliminate any pages that violate their Terms of Service.
Reporting a fake page only takes a few minutes and can significantly protect your brand and other users. So if you ever come across a fake page on Facebook, don't hesitate to report it. However, you'll be doing yourself and other users a big favor!
Conclusion
A fake Facebook business page can easily mislead users and cause many problems for you and your customers. Thankfully, reporting a fake Facebook business page is simple and easy. So all you have to do is trail the steps outlined in this article, and Facebook will investigate and take appropriate action. Perhaps once you spot a fake page, feel free to report it. It only takes a few minutes, and the results are well worth the effort.