Small Businesses: The first step to understand how the concept of marketing can drive business growth is to know why it is crucial to success. The answer is simple: without customers, there's no profit. And to gain customer trust, you need to make your business visible and credible to its target customers.
How Marketing Helps Small Businesses?
Some business owners think they should spend large amounts of money to drive growth. However, this is simply not true. The most successful entrepreneurs understand that implementing the right marketing techniques won't only allow them to create awareness and attract new customers, but it can also help retain existing ones.
Here are several ways marketing impacts the growth of small businesses:
1. Amplifies Awareness
Without marketing, customers wouldn't know your small business exists. In short, it drives growth because it brings buyers and sellers together. It creates awareness for your products and services, resulting in a bigger customer base and increased potential leads.
Growing a business may be challenging because of the limited resources. Fortunately, different types of marketing can be utilized. In today's market, online marketing methods are taking the world by storm. More businesses, new or established, are beginning to embrace its idea online as businesses can easily reach a much larger audience, which proves to be an effective way to drive visibility and growth.
2. Encourages Engagement
Technology has changed the way humans live and communicate with each other. While television, radio, and other traditional forms of marketing still have a place, the internet has changed the landscape of marketing altogether. With the help of an expert digital marketing agency like Caffeine Marketing and others, you can take a more personalized, interactive approach to advertising your products and services by creating an emotional connection with customers and your brand.
A strong relationship with customers is essential in ensuring business growth. Businesses can't continue to grow without some form of direct customer contact or engagement online. By considering a variety of methods to boost customer engagement, a small business can ensure they're able to maintain a strong relationship with potential clients.
3. Imparts Information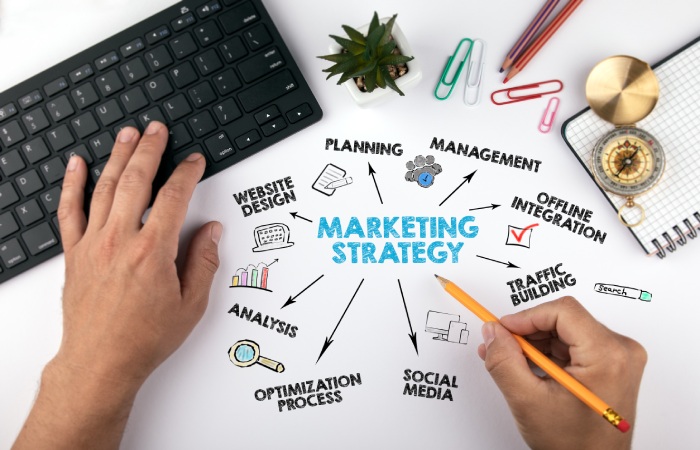 When a business utilizes marketing strategies properly, it can influence the decision-making process of the target audience. Therefore, small businesses need to use marketing to impart relevant and timely information for customers and potential clients.
While large or established companies pay for targeted email, telemarketing, or broadcast marketing to impart essential and valuable information to their customers, small-to-medium-sized businesses need not spend too much to disseminate insights. Small businesses and startups can use modern methods such as content marketing and other digital marketing strategies to reach their customers more effectively at a fraction of the cost of traditional advertising.
4. Retains Or Restores Reputation
There's no doubt that one of the most significant assets a business can have is a positive reputation. It can help continuously develop a good name that customers would remember. It's essential in restoring or retaining the image of your business.
Marketing professionals can help implement certain techniques to help boost a business's reputation, but word-of-mouth marketing has always been the most effective form of advertisement. The impact of a good rapport always shows in the company's return on investment.
5. Cultivates Loyalty And Trust
In today's competitive market, there are a variety of ways to promote your brand and increase awareness among customers. Many companies, however, are missing an important element in their overall marketing strategy: cultivating loyalty.
When customers feel like they have a relationship with the brand and see that the relationship is built on trust and positive results, they're much more likely to purchase your product or service even if a new company comes along.
How well your company markets its brand is also crucial in obtaining the trust of investors and stakeholders. Adequate funding is essential in growing your business. You also need to attract good and reliable team members to steer the company towards success. With effective marketing strategies, you can build a brand identity that fosters trust and loyalty.
Takeaway
For a small business to be successful, it must use strategic marketing to establish its unique value. Investing in a mix of traditional and online marketing is an excellent way to make sure a business can do just that.
It's not necessary to spend on expensive advertising campaigns but focus on cleverly targeted marketing campaigns that make use of simple language and interesting imagery to get the point across. Consider the ideas mentioned here as you market your small business.