Public Relations Definition
Public relations consist of a strategic communication process that builds mutually beneficial relationships between organizations and their audiences.
Simply put, the Public Relations Society of America ( PRSA ) has established the definition of public relations as a strategic communication process.
It builds mutually beneficial relationships between organizations and their respective audiences. We are going to break this down to understand better and understand the elements that define PR.
What are the 5 Elements of Public Relations?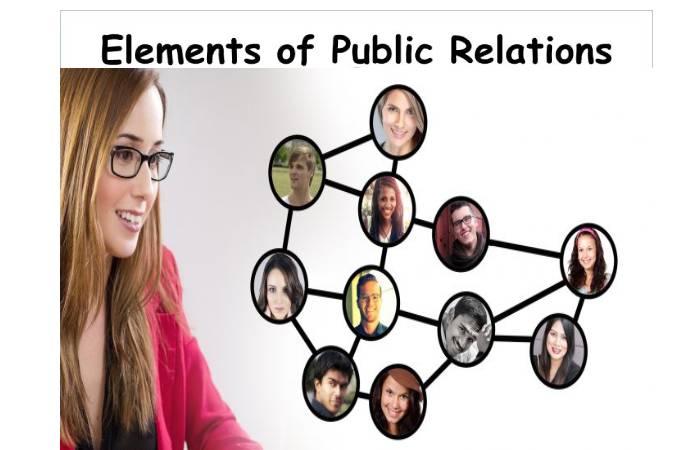 1. Organizations
The grouping of people around a common cause it.
An organization can be a company, a government, an NGO. That is, it can take many forms.
2. Public
Like organizations, audiences are multiple and span diverse social backgrounds.
We can think of them as groups of people who interact with a particular organization.
3. Communication Processes
Like all communication forms, public relations involve at least two parties (in practice, multiple parties).
These parties, which are the organizations and the different audiences, are related to establishing exchange processes.
4. Non-linear Processes
Quite the contrary: they happen spontaneously and multilaterally.
Public Relations arise as a way of understanding them and optimizing the links between the various actors involved.
5. Exchange relations
Organizations and the public are related all the time through various dynamics that add value to both parties.
In this sense, Public Relations emerge to organize the links and exchange processes between organizations and the public, generating benefits and value for both parties.
Organizations benefit from conveying their message and generating a positive perception of the brand and services.
On the other hand, the public can have a more transparent view of the organizations and complain about the services offered, and the positioning carried out.
What is Public Relations in Marketing?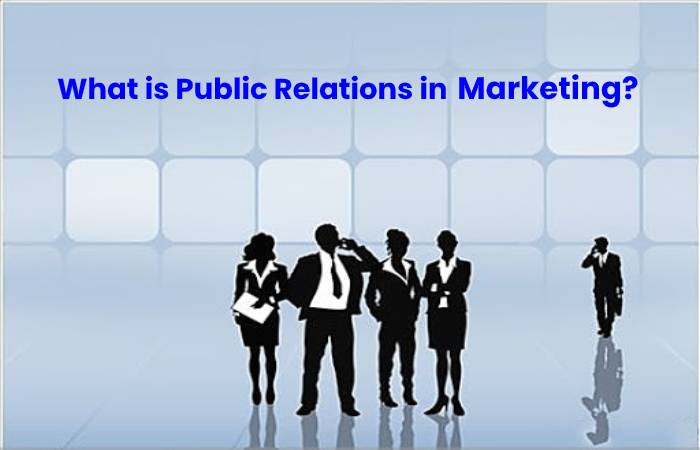 A PR job well done helps the public understand a company, its values, its goals, and what it has to offer. Any good marketer reading this phrase can relate to it.
These two activities come together. Both aim to establish relationships of trust and exchange between the company and the public through charm. And most importantly, they provide lasting benefits.
1. Logic of Operation
Public relations work in a more direct, logistical, and strategic way.
On the other hand, marketing works mainly with the new, the risky, and, also, with indirect elements.
But the important thing is that both are fundamental to a company, and the teams must work together.
We can think that, although a PR works directly with employees, the marketing officer cares about end marketing strategies, for example.
2. Job Market
Many people claim that the job market in any field of communication is getting worse and smaller. But the truth is that the ease of communication makes many companies understand the urgency of hiring professional solutions for this sector. It is no different from the PR professional.
The market is continually professionalizing as it is a relatively new activity and points to more opportunities.
We have already described the main activities carried out by public relations professionals, and below, we will also tell you what positions a Public Relations professional can occupy:
Communication advisor;
Press advisor;
Event manager;
Relationship with the client;
Institutional comunication;
And also, Brand journalist.
These are just a few options. Of course, as in any other profession, PR will not perform all of these functions. We are presenting possible fields of activity of this professional.
How did Public Relations Come?
One of the most outstanding public relations scholars, James E. Grunig, points out that the Chinese aristocracy has cultivated this art for 5,000 years.
However, public relations as a professional field have since the early 20th century, that is, about 100 years ago. As we can see, this field of study is relatively recent.
It arose in the United States from the need for companies to communicate with their audiences to generate a positive image.
At that time, an accelerated growth era was underway, marked by the mechanization of processes and workers' exploitation.
The workers' movement became more and more articulated and manifested itself against large companies.
It caused these companies to perceive the need to communicate a better image of themselves to their public.
The first public relations professional that communication specialists consider is Ivy Lee. And also, he regards as the father of public relations.
Ivy Lee founded her own PR office and worked for large corporations to improve their image and increase its profits.
It reinvented the way organizations positioned themselves in front of the world.
He preached business models' humanization and advocated for transparency, preaching the maxim: "The public must inform."
It still establishes how communication scholars view public relations: an activity to optimize the link between the public and companies to improve these publics' experience.
Because it was a new area and no college courses or ways to acquire that specialization, public relations build on practice.
For the same reason, the professionals who worked for companies in this role generally had backgrounds related to administration and management.
Thus, public relations, which did not even bear his name, emerged as a technical position focused on a management aspect.
With the evolution of the field, the need arose to organize studies to prepare new professionals.
What does Public Relations Professional do?
The PR has the function of analyzing the organization in its various dimensions and possibilities to establish strategic plans that convey its best message and image.
And also, he is a communications manager and works in the most diverse fields of the company.
The professional who makes up this career is the critical piece of a company: they centralize the different communication demands that affect the business environment.
All these demands make up the plan of a public relations officer, who ensures that they resolve in the best possible way.
It means protecting, maintaining, and creating the right image through the media for the public.
It would help if you related directly and clearly with the public to strengthen the bond and avoid noise in the relationship.
And also, the critical activities of a PR include:
1. Write Press Releases
The press release or press release, as its name implies, is an announcement or informative for the media about the activities of the company.
While it may sound simple, writing and publishing a press release is not an easy task.
The press release can be something that the company wants to communicate, such as a new service or brand positioning.
Still, it can also be a reaction to some previous event (a controversy, for example).
It is essential to carefully choose the words, the spokesperson for the message, the tone of voice, and even the press release's timing in both cases.
A bad press release can cause misunderstandings, backlash, and even a crisis in the organization.
However, if it does l, it results in great moments for the company to and the right image and positive comments in the mass media and among the public.
2. Organize Events
Internal and external company events have various objectives, and they must be well-executed and enjoyable.
The public relations officer organizes all the logistics so that it works as well as possible and meets its objectives.
3. Conduct Market Research
And also, understanding the market is critical to public relations work.
You must understand the behavior of consumers and potential customers who interact with your brand through audience mapping.
That is why market research is instrumental. It is carried out together with other professionals and teams, and the public relations officer is fundamental in preparation and management.
The research will show which audiences you are dealing with, as well as market trends and preferences.
Therefore, the company's actions will have more potential to work based on facts.
4. Manage Contacts and Relationships
A company needs good relationships. And, after all, this couldn't help but be a PR assignment, could it? It is significant to note that there is a good reason for plural when we talk about relationships.
An organization is not related to a single group of people. There are several groups which we call audiences.
Therefore, diverse and interconnected relationships establish between organizations and their audiences.
And also, we can divide them into three huge groups:
Internal community: that is, employees;
External community: which includes consumers, potential customers, product enthusiasts, and anyone else who in any way relates to the company and the brand;
Media: it is the vehicle of communication and the people who represent them.
All these audiences must carefully work through networking, partnerships, and strategic actions.
5. Content Production
Yes, content marketing is closely related to public relations work.
Writing content is part of a public relations routine. But, of course, the content production process is not limited to that.
The PR understands the brand's language and positioning and transmits it on different internal and external channels.
It is not responsible for the entire content production.
It deals with the entire process that encompasses blogs, social media, websites, and videos.
And also, the publication of materials about the company on external media.
6. Manage Crisis
No company is free from mistakes and, consequently, from criticism and crisis, whether internal or external.
The PR must deal with adverse reactions and control damages, working the situation to the best of his ability.
And also, it does not have severe consequences for the organization.
7. Deal with Opinions, Comments, and Criticisms
This topic is related to the previous one.
And also, every day it is easier for people to express their opinions.
It is very positive for both consumers and businesses, so the relationship becomes closer, and both can get a mutual understanding.
Simultaneously, the ease of users expressing their opinions can generate unexpected scenarios for the company.
Responding to positive comments is easy, but negative reviews are not that simple.
The speed of making public social networks and complaint sites, for example, causes the need to speed up response time.
And also, it goes way beyond that: attention to language, past information, and others' participation is crucial.
Accepting opinions and criticisms and resolving situations that arise from them can be much more complicated than you think.
And the most challenging part involves anticipating the impacts of the actions.
Much more than dealing with criticism, the PR must assume that its action will have reactions.
You must anticipate the scenario and avoid unpleasant situations.
8. Communication Consulting
Finally, many of these activities include communication consulting, often led by a public relations officer.
Communication consulting is a sector that establishes the connection between the company and the public.
And also, a company may have its advisory team or hire a company to do this.
The communications consultancy takes care of an organization's entire communicational part, so planning a PR is necessary.
Among the communication consultancy activities are press consultancy, management of social networks, and image management.
What is a Public Relations Course?
1. Program
The course program covers topics of social communication, management, and administration. These three main areas are essential to train an excellent professional and provide an overview of the field of knowledge.
The subjects included in the program:
Communication theories;
Public relations processes;
Event organization;
Organizational communication;
Communication consultancy;
Media management;
And also Marketing.
2. Duration
The course lasts approximately four years, and the classes concentrate on a single period, which allows an internship.
Conclusion
The area of ​​communication is extensive, and public relations enters as one of the main fields.
Combining strategy, knowledge of communication, economics, management, and administration, the professional has a holistic vision of the organization and can make its best decisions.
If you liked this area, it is worth knowing more about the available universities and which ones are most interesting for your professional goals, since the field of activity is very wide.
Also Read: What is a Trade Show? – Simple and Easy 10 Tips to Make