In the vibrant and diverse landscape of Nigerian entertainment websites, Naijaloaded.com.ng is a robust platform that has captivated millions of music and entertainment enthusiasts.
With a vast array of content ranging from music downloads and news updates to viral videos and exclusive interviews, Naijaloaded has emerged as a go-to destination for Nigerian internet users seeking quality entertainment.
In this editorial, we will delve deeper into the essence of Naijaloaded.com.ng, exploring its history, features, and impact on the Nigerian entertainment industry.
Naijaloaded.com.ng – Overview: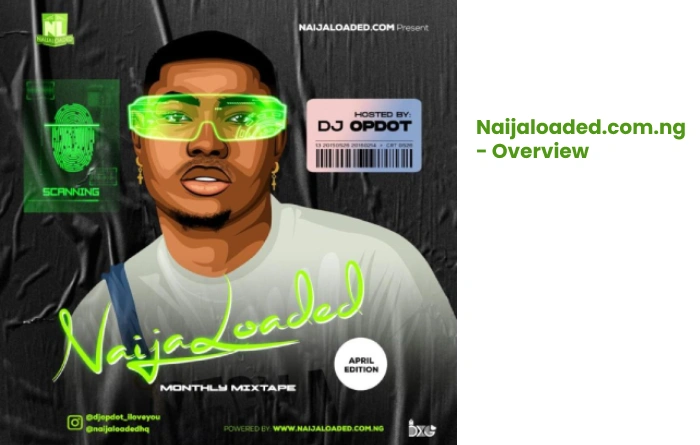 Naijaloaded.com.ng founded by Makinde Azeez, who started it as a personal blog while still a student at Lagos State University.
Over time, the website grew in popularity, and Azeez decided to turn it into a full-fledged online media platform.
Today, the website has millions of monthly visitors and is a go-to destination for Nigerians seeking news, entertainment, and more.
History and Evolution:
Naijaloaded.com.ng was launched in 2009 by Makinde Azeez, a visionary entrepreneur passionate about Nigerian music.
Initially starting as a music blog, it quickly gained traction and expanded to cover various entertainment topics.
Over the years, Naijaloaded has undergone significant growth, becoming one of Nigeria's most popular and influential online platforms.
Today, it boasts a dedicated team of editors, writers, and content creators who work tirelessly to bring its audience the latest and most engaging content.
A Gateway to Nigerian Music:
Naijaloaded.com.ng has emerged as a digital haven for Nigerian music enthusiasts. The platform offers a vast music collection from renowned artists, emerging talents, and everything.
Users can explore different genres, discover new tracks, and access exclusive releases. With a user-friendly interface and efficient search functionality, Naijaloaded.com.ng makes navigating and enjoying the vibrant Nigerian music scene effortless.
Entertainment News and Gist:
Keeping up with the latest trends and gossip is a breeze on Naijaloaded.com.ng. The website provides up-to-the-minute updates on Nigerian and international celebrities, events, movies, and more.
Users can immerse themselves in the exciting entertainment world through engaging articles, exclusive interviews, and captivating photo galleries.
Whether breaking news or juicy gossip, Naijaloaded.com.ng keeps its audience well-informed and entertained.
Content Offerings:
Music Downloads: Naijaloaded is renowned for its extensive collection of Nigerian music, offering an unparalleled platform for artists to showcase their talent. From mainstream hits to up-and-coming acts, users can access and download a vast selection of songs across various genres, including Afrobeats, hip-hop, R&B, gospel, and more.
News and Updates: Keeping up with the latest happenings in the Nigerian entertainment industry can be daunting, but Naijaloaded simplifies this process by delivering timely news and updates. From celebrity gossip and album releases to concert announcements and industry trends, the platform ensures that users stay informed and connected.
Exclusive Interviews: Naijaloaded has carved a niche by conducting insightful interviews with established and emerging artists. These interviews provide a unique opportunity for fans to gain deeper insights into their favorite musicians, their creative process, and the stories behind their music.
Viral Content: Naijaloaded features engaging and shareable viral content besides music and news. The platform caters to a broad audience with diverse interests, from funny videos and memes to captivating stories and thought-provoking articles.
Content:
Naijaloaded.com.ng provides its readers with a broad range of content, including news and current affairs, entertainment news and gossip, lifestyle and fashion content, music and music videos, and much more.
The website is updated frequently with fresh content, ensuring readers always have something new to read or watch.
One of the critical features of naijaloaded.com.ng is its music section, which offers a vast collection of Nigerian music, both old and new.
The website also provides music videos and additional music-related substance, making it a one-stop shop for Nigerian music lovers.
Another popular feature of the website is its video section, which features a wide range of videos, including music videos, comedy skits, interviews, and more.
The website also has a section dedicated to sports, providing news and analysis on the latest sporting events in Nigeria and worldwide.
In addition to its entertainment content, naijaloaded.com.ng provides news and current affairs coverage, focusing on Nigerian news and politics.
The website has an experienced journalists team and editors who work hard to ensure that readers are up-to-date on the latest information and developments in Nigeria and beyond.
Video Content Galore:
Naijaloaded.com.ng takes visual entertainment to new heights with its vast collection of videos. The platform offers diverse video content that caters to different tastes, from music videos and comedy skits to viral clips and movie trailers.
Users can enjoy seamless streaming, high-quality playback, and an immersive viewing experience. Naijaloaded.com.ng is a one-stop destination for those seeking captivating and entertaining videos.
Interactive Features and Community Engagement:
One of the key factors contributing to Naijaloaded.com.ng's success is its interactive features and strong community engagement.
Users can actively participate in discussions, leave comments, and express their opinions. The website also hosts interactive contests, giveaways, and promotions, fostering a sense of community and encouraging user involvement.
Naijaloaded.com.ng has successfully built a vibrant ecosystem where users feel connected and engaged.
User-Generated Content and Emerging Talents:
Naijaloaded.com.ng provides a platform for emerging talents to showcase their skills and gain recognition.
The website accepts submissions from musicians, comedians, and other creative individuals, allowing them to reach a wider audience.
This commitment to promoting and nurturing talent has made Naijaloaded.com.ng a springboard for many aspiring artists, helping them kick-start their careers in the Nigerian entertainment industry.
User Experience:
Naijaloaded.com.ng has a user-friendly interface that makes it easy for readers to navigate the website and find the content they interested in.
The website is optimized for mobile phone devices, ensuring readers can access it from anywhere, on any device.
The website also has a search function that allows readers to search for specific content, making it easy to find what they want.
Additionally, naijaloaded.com.ng has a comments section on its articles, allowing readers to engage with the content and each other.
Mobile-Friendly and Accessible:
Recognizing the growing importance of mobile devices, Naijaloaded.com.ng has optimized its platform for seamless mobile browsing.
The website's responsive design ensures users can access their favorite content on smartphones and tablets without compromising the user experience.
This mobile-friendliness has contributed to the website's widespread popularity, allowing users to enjoy their favorite entertainment on the go.
Alternatives:
While naijaloaded.com.ng is a top destination for Nigerians seeking news and entertainment, other websites offer similar content.
Some of these include Linda Ikeji's Blog, BellaNaija, and Pulse.ng, TooXclusive, and Notjustok.
Conclusion:
Naijaloaded.com.ng has established itself as one of Nigeria's top online media platforms, providing its readers with a wide range of content, including news, entertainment, music, videos, and more.
With its user-friendly interface, regular updates, and focus on Nigerian news and culture, the website has become a must-visit destination for millions of Nigerians.