What is Microsoft Excel?
Microsoft Excel is the most popular and best application for managing, organizing, and organizing crucial data.
This application use in countless ways, so the number of features pack within this popular Microsoft application.
It does not matter if you are a casual user or an Excel expert. It is crucial to know everything in it so that you can easily use this complex application.
Easy Tips and Tricks to Use Master Microsoft Excel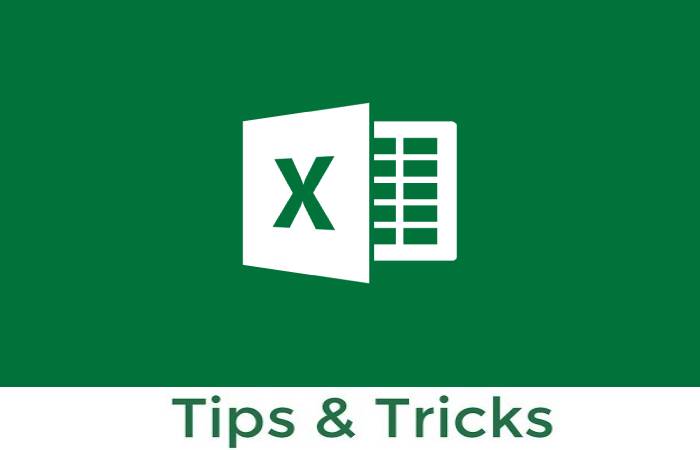 Here in this article, we describe easy tips n tricks that will make you master Microsoft Excel.
1. Click once to Select All
Many of us know that we can select the entire Excel sheet using the shortcut Ctrl + A.
But I suppose few of us know that just clicking the button in the corner once will select the entire data in less than a second.
2. Open Multiple Excel Files at the Same Time
While working on multiple excel files, you need to open files one by one, this is quite difficult to handle, but here we will describe a practical way to open all of them with just one click.
All you want to do is select the files you want to open and hit the Enter key; all the selected files will fully open.
3. Create a New Shortcut Menu
Using shortcuts makes work more comfortable. In Excel, we have three shortcuts in the top menu – Save, Undo Write, and Repeat writing.
But if you want to use more shortcuts like Copy and Cut, you can configure them:
Here's How:
Go to File> Options> Quick Access Toolbar> Add Cut & Copy from Left to Right Column and save it.
Now you can see two more shortcuts added in the top menu and make the job easy for you.
It is beneficial to organize your crucial Excel data easily and become an Excel expert.
4. Add more than One New Row or Column
Well, I think most Excel users should know that by selecting a row or column, we can add a new one using the Insert in the Home drop-down menu.
However, here is an informal way to do it.
Drag and select rows or columns> right-click the highlighted rows or columns> select Insert from the drop-down menu.
New rows will now insert above the row or to the left of the column you first selected.
5. Apply Diagonal Borders
If you have a table that requires row and column headings in the same cell, use the diagonal borders.
Click More Borders at the bottommost of the Borders drop-down menu ( on the Home tab of the ribbon ), and the diagonal buttons are around the corners of the box.
Click on it and save.
It makes the work easily understandable and presentable on your Excel sheet.
6. Columns in Rows
You have data in columns that must be in rows or some other way.
So we have tips for doing it without losing anything.
Just copy the original cell block> right-click the destination cell > click Paste Special> Transpose.
7. Hide Individual Cells
Excel has the main trick of hiding cells.
It would help if you did is choose the cell you want to hide, and right click> select Format Cells and then set the format to Custom on the Number tab and Enter ;;; (three semicolons) as the format.
Now the cell contents disappear, but they are still present there and can use in formulas.
8. Freeze Rows and Column Headings
It is a simple but useful trick to become an Excel expert. Freeze column and row headings so they can always see when scrolling.
To do this:
Place the cursor in the upper-left cell where the actual data begins and go to the VIEW menu and select Freeze Panes and Freeze Panes.
Now the header is visible wherever you scroll.
9. Quickly Move and Copy Data in Cells
Suppose you want to move a column of data in a spreadsheet.
The quick and easy way is to select it and move the pointer to the edge after it turns into a cross arrow icon and then drags to move the column freely.
But if you need to copy the data, press the Ctrl button before dragging to move the new column to copy all the selected data.
10. Quickly Delete Blank Cells
About the default, data will be blank for many reasons.
So you want to remove these to maintain accuracy, mainly when calculating the average value.
The easiest way is to filter entire blank cells and remove them with one click.
Select the column you want to filter and go to Data> Filter after the button down show.
Undo Select All and then select the last option, Blanks.
All blank cells will display immediately.
Now go to Start and click Delete directly; everything will be deleted by clicking once.
11. Use Flash Fill to Save Time
The padding makes the job easier, so if you reformat the data in adjacent columns,
So this is very useful.
Recognize the patterns and fill in the rest of the details for yourself.
Just give excel some examples at the top, and you will see the suggestions in gray. Press Enter to accept.
12. Add Comments to Formulas
Add space and + N ("your comment here") to permission comments on your formulas.
It helps others understand your spreadsheet.
Comments do not appear in the cell but are displayed in the formula bar and can also search.
13. Quickly Add Figures
You are probably doing a lot of addition with Excel, but you don't need to write SUM formulas.
Just highpoint the cell at the end of the row or the bottom of the column you want to add and then press Alt + = (equals) or Cmd + Shift + T on a Mac.
14. Rotate Title Text
If you need to add headings to very narrow columns, rotate the text to fit.
Go to the Home tab and click the Orientation button and make your choice.
The button place next to the other text formatting options.
15. Add Decimal Points Automatically
We will express to you the trick to enhance decimal automatically.
There is no want to left-over time manually entering decimal points.
Click File> Options> Advanced, and the choice is near the top.
You will find several useful settings on this page, covering program behavior, number formats, and much more.
16. Add your Graphics to Graphics
When making chart graphics, you don't need to settle for the color blocks that Excel offers by default.
All you want to do is double click a bar and then click paint bucket to change fill options.
You can also switch to inclines, a pattern, or upload to an image file from a disk.
17. Save Tables as Templates
It is another cheat related to the practice letter to become a master in Excel.
When you find a design and color combination that matters, save it as a template so that you can use it again.
Right-click on any chart shaped, and you will see the Save as Template selection.
18. Enhance the Calculator (or else) to Quick Access
In an excel file, you can enhance shortcuts like calculator, Windows camera, or ink applications, or the zoom controls.
It makes your work more comfortable in the Excel text.
You container do this by opening the Quick Access Toolbar (to the right of the save and undo commands on the title bar)> choice More Commands> and add the menu shortcut whatever you want.
19. Apply Some Conditional Formats
In Excel, you can add Conditional formatting. It can add a bit of pop to the sheets and helps you choose data easily.
It is simple to use:
Select the data that need for formatting > click Conditional Formatting (under Home)> and create your rules accordingly in the drop-down options.
20. Can Draw Equations
This feature is obtainable in Excel 2016 (useful if you have a touchscreen PC).
It draws equations. It is necessary to go to the Insert tab on the ribbon menu.
And select Equation and Ink Equation.
And after that, you can draw on the yellow box.
21. Quick Navigation with the Ctrl + Arrow button
A quick navigation trick in Excel; many of us know that we click Ctrl + any arrow button on the keyboard.
It can jump to the edge of the sheet in different directions.
But if you want to hurdle to the bottom line of the data, press the Ctrl + button-down and quickly go to the last cell.
22. Input Values ​​From 0
It is essential for regular Excel users.
When any input value begins with zero, Excel, by default, removes the ZERO.
Instead of resetting the format cells, this problem quickly solves by adding a single quote mark in front of the first zero.
23. Rename the Sheet by Double Clicking
There are many ways to rename sheets, and many users will right-click to select Rename. It is a process.
The easiest and fastest way to rename is to double click and rename directly without wasting time.
24. Write the Text with &
The ampersand is very necessary to compose any text freely.
For example: below, you have four columns with different texts, but you want to compose them to a value in one cell.
Next, first locate the cell to display the composite result, use & formation, and press Enter.
All the text in cell A2, B2, C2, and D2 will compose together in cell F2.
25. Transform the Case of the Text
You have tried this best to avoid formulating complications.
But there are still some practical and straightforward formulations like UPPER, LOWER, and PROPER that can transform texts for different purposes.
UPPER full characters capitalize; LOWER changes the text to lowercase, and PROPER only capitalizes on award's first characters.
26. Speed ​​up the Entry of Complicated Terms with AutoCorrect
Though working in an Excel file, if you want to repeat the same value, it isn't easy to enter it. Here's how to do it easily by using the AutoCorrect feature.
Doing this will substitute the text with the exact text.
For example: Take any name similar to Amy Jackson, and substitute it AJ, and after every time you enter AJ, it will self-correct to Amy Jackson.
It is an exciting and useful Excel hack.
To do it:
Go to File> Options> Quiz> AutoCorrect Options and enter Replace text with correct text in the red rectangular area.
27. Generate a Unique Value in a Column
Many Microsoft Excel users are well aware of Filter's key feature, but few use the advanced filter. It helps users repeatedly apply when you need to filter a single value of data in a column.
Follow the Process:
Click to choose the column and drive to Data> Advanced > a popup appears.
Then click Copy to another location, which is in the second rectangular area.
Then specify the destination location by entering the value or clicking the area radio button.
Now the unique age generates from column C and will appear in column E.
You must also select Unique records in the popup.
Click ok.
The single value that appears in column E could be a contrast to the original data in C.
It reason why it recommends copying another location.
28. Entry Restriction with Data Validation Function
It preserves the data's validity; it requires restricting the input value in some cases.
And offer some tips for other steps.
For example, the Microsoft Excel sheet's age must be in whole numbers, and the survey participant must be between 18 and 60 years old.
So to make sure, no data outside of this age range should enter.
Go to Data> Data Validation> Configuration, enter the circumstances and modify to Input Message to give prompts. As ( please enter the age in the integer and must be in the range of 18 to 60).
Users will automatically receive this message when hanging the pointer in this area.
And you are getting a warning message if the information given does not qualify.
29. Bring the Selection into View
These Excel tips will help you quickly recognize the selection area.
Suppose we have selected some cells, and we have slipped, and now we cannot see it.
So, in this case, press Ctrl + Backspace. It will bring that selection into view.
And if you press shift + Backspace, the selection will appear in the view but will reduce the active cell selection.
30. Learn the best Excel Shortcut Keys
It is very worthy of Microsoft Excel users. It would help if you learned some shortcut keys to increase your productivity in Excel.
Here we have comprised some shortcut keys that are useful for regular work.
Ctrl + [Down | Up Arrow]: Used to move to the top or bottom cell of the current column and Ctrl with the left arrow key | right, moves to the left rightmost cell in the current row.
shift + Ctrl + Down / Up Arrow: will choice entire cells above or below the current cell.
Ctrl + Home: Go to cell A1.
Ctrl + End: To go to the previous cell containing data.
Alt + F1: will create a chart based on the selected dataset.
Ctrl + Shift + L: This will activate the automatic filter to the data table.
Alt + Down Arrow:  Open the automatic filter drop-down menu.
To use this shortcut:
Alt + D + S: To sort the configured data.
Ctrl + O: Open new book.
Ctrl + N: Create a new book.
F4: To select the range and press the F4 key, you will change the reference to absolute, mixed, and relative.
Conclusion
We expect that afterward, reading this article, you will get extensive information about Microsoft Excel features.
You can use the tips and tricks to upsurge your productivity in Microsoft Excel and get all your work done quickly.
So start using the structures included in this article and become an Excel expert now.
Also Read: What is PDF? – The 5 Best Free PDF Readers at a Glance