Revenue analytics sounds like another boring business strategy. As a modern marketer, though, it is best to accept that it can be a big part of your business growth. Revenue data is at its most complex today. Much of the reason for this can be attributed to the number of touchpoints that are introduced to the customers. The more you use technology to promote your business, the more it gets complicated to see which campaigns work. The sales cycles become longer and the tendency to feel disconnected from the target customers also gets bigger.
Revenue analytics can be the right solution by giving you a mix of in-depth customer data, revenue forecasts, and actionable insights to improve and keep your sales pipeline healthy. You can view it as a smart opportunity to see the problems in your sales activities and enable your team to seek for effective interventions.
Consider this article as a walkthrough to an overview of how graphic design tools can be effective partners in growing your business.
Why Forecast Revenue Using Analytics?
The process of making growth predictions is called revenue forecasting. It is essential to do in any business because it can help in a lot of ways, including predicting the overall growth rate of your company, allowing you to better manage the cash flow and spending, and preparing your team for seasonal lulls in the business.
Revenue analytics is a scientific method of collecting and looking at revenue data so that accurate forecasts are made. It works by producing actionable insights that guide marketers in making better decisions and improving revenue performance. The ability to forecast revenue is an advantage because it gives data from every sales activity. The data becomes available to everyone on the team so everyone gets empowered with updated and relevant insights that are geared toward business growth.
Forecasting revenue using analytics is also crucial to help you predict trends. As a result, you can adjust your strategies and stay ahead of your competition. Moreover, it'll help you meet the demands of your customers better. They'll feel valued because they know you're on top of your game in addressing their needs. Also, there'd be no more incidents of products going out of stock or late shipping because you can properly prepare for them.
Product analytics is also an essential part of revenue forecasting. It can provide crucial information into a company's product performance by examining key metrics such as user engagement, user retention, conversion rates, and even which features they use the most. Through this, companies can identify opportunities in a product and find ways to improve them.
Three Steps to Implement Revenue Analytics
Revenue analytics can be complex but here is a breakdown of the steps involved to get started with it:
1. Standardize data.
It is important that you collect relevant and meaningful data. Try to determine what performance you want to analyze and put up a time frame for your goals. It is crucial to identify the metrics that you need especially since you are going to deal with a huge amount of data from several sources.
2. Pick a revenue analytics tool.
Gathering and analyzing data can be a long and painful process if you do them manually. A revenue analytics tool is the best solution to collect and interpret data. Most of these tools can be programmed to gather a specific set of data so that only the relevant metrics get processed.
A tool that you can customize based on your needs is ideal. And one that's scalable will also be advantageous for your business.
3. Share results with the team.
Your findings will be useless if you are just going to lock them in your files. The foremost reason why you do analytics is to be guided by the right metrics and interpretation. It is a must to act upon the results to make the process worthwhile and truly beneficial.
Furthermore, the findings must be converted into a language your team can understand. This way, the details will be clear to them, avoiding misinterpretations. In addition, by being aware of the current data, each can effectively take on their duties and contribute to the common goal of ensuring business growth and success.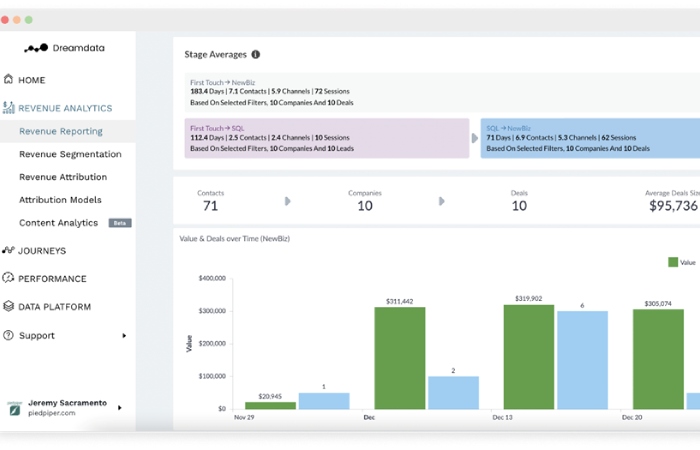 How to Choose the Best Revenue Analytics Software
There are probably hundreds of tools out there that have a variety of features to help with revenue analytics. What you need to remember though is that you do not need to have something that is packed with features. The best tool is one that you can actually use and will ultimately lead you toward achieving your goals. To pick out the best revenue analytics software for your team, you need to ask yourself the following questions first:
What information is crucial to your business?
There is a plethora of data from all stages of the sales funnel. Narrow down what data you need by aligning your marketing goals to the features. See if the tool can give you the data that will help get people to subscribe to email newsletters. Will it help you identify the seasonality of your product sales? Is the tool effective at boosting sales? Knowing that the features can help you hit your targets will encourage you to use revenue analytics and reap its benefits.
What are your non-negotiable features?
Every tool is built differently so it is crucial to check if it has features that are non-negotiable when it comes to your team. For example, if you are running mobile campaigns, a tool with mobile-first analytics features is a must. It is also important to check if the technical features match your system requirements and compatibilities. It will be such a bummer if you have nice features but do not get to use them just because they are either unnecessary or simply do not work with your tech stack.
How does it collect and analyze data?
The problem with using analytics is that there is simply too much data to gather and interpret. The tool must be effective at filtering the most important data and at reporting it visually. It would be so inconvenient if the tool is dependent on human inputs. What would be nice is a tool that is powered by AI technology so you can free yourself of the confusing part of the revenue analytics process.
Once you know what you want for a revenue analytics tool, it is time to check out some of the best ones in the industry.
Best Revenue Analytics Tools to Try
Dreamdata.io
Understanding the metrics behind your campaigns is a topmost priority if you want to implement a data-driven strategy within your team. Dreamdata considers your revenue data as a goldmine that will empower your team to succeed. What it does is quantify and analyze every single deal in your pipeline. This allows you to understand how each sale is closed and how revenue is generated.
With its revenue analytics features and b2b marketing attribution, you will be able to identify scalable growth options. This means no more guessing what will work effectively for your business. It will give precise insights that will support the course of action that you want to take to seal more deals.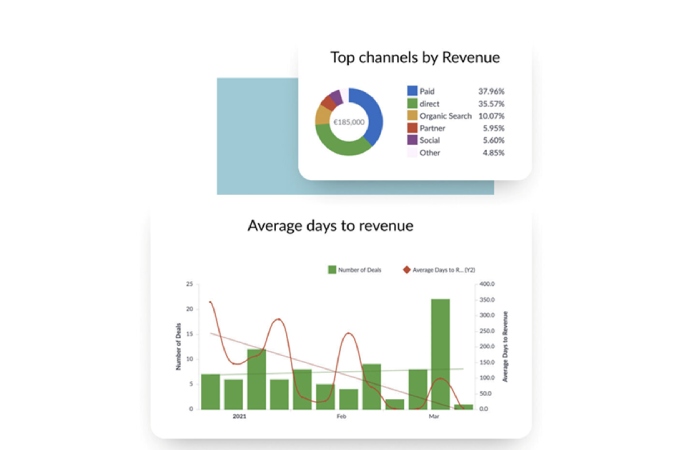 Kluster
Scaling your business will be difficult if you do not have an idea of how to beat targets every quarter. Kluster is one of the leading revenue analytics platforms today as it not only gives greater visibility into your pipeline but also delivers intelligent insights with AI-driven course corrections. What makes it great is that it can adapt to your existing processes so you do not have to change the way you use your tech stack.
Revenue.io
Optimizing revenue performance is not the sole responsibility of the sales team. Revenue.io is a real-time revenue intelligence software that everyone in the organization can make use of. It transforms multi-channel sales engagement data into predictive insights that will guide you to identify which actions can drive the most wins. You can diagnose any problem in the pipeline and effectively make changes that will lead to better revenues. The marketing team, for example, can see which campaigns drive the most engagement and conversions. They can then create content to further boost effectiveness.
Boostup.ai
As a revenue intelligence and forecasting tool, BoostUp allows you to help standardize the sales process and drive accountability across your pipeline. It is easy to use and can connect with your existing CRM so you can instantly see the entire revenue life cycle. With its metrics analysis, you can drive sales behavior and make better revenue decisions. With a way to execute faster changes through insights, your team becomes more productive and engaged in all revenue-generating activities.
RevenueGrid
One of the most effective ways to speed up sales cycles is to know where you should improve in your pipeline. RevenueGrid not only collects and synchronizes data from CRMs and other channels but it also gives you actionable insights. It works by automatically capturing data from all touchpoints and then assessing the sales activities. It also correlates sales activities and results and then creates revenue signals that will guide the team to the next best step to take.
Your Turn…
Having access to accurate and reliable forecasts will allow you to deploy effective sales strategies with full confidence. This is why revenue analytics tools are important in your tech stack. It lets your team understand conversion metrics better, take advantage of the pipeline visibility and slowly build up the confidence that they need to make the best decisions. When your team becomes confident in what they do, they become more productive and are able to hit targets better, inching you forward to your revenue goals.
To grow your business, it is important that you implement a data-driven strategy to boost your performance. Revenue analytics is one of the right tools to do this since it will promote a data-driven mindset in your organization. Because valuable information is accessible, the whole team can use the insights more efficiently. By turning data into insights and insights into actions, you will have a foolproof way to achieve your goals in no time.  Basically, revenue analytics highlight the opportunities that will bring your team more deals to carry your business to the finish line.
Author's Bio:
Jenn Pereira is a digital marketing strategist with a focus on growth hacking. She helps businesses achieve their goals by developing creative ideas and strategies that get results. Also, she has helped businesses achieve upwards of 400,000 monthly visits through her innovative and strategic marketing techniques.