Large weddings can be nerve-wracking for the bride and groom who intend to plan their day. If it is outsourced to a wedding planner, it still is a big celebration and there needs to be a personalized touch to welcome the guests. Even the nitty-gritty details of a wedding add up to a substantial amount. Any amount of frugality cannot bring the budget and the nervousness down unless the guest list is trimmed.
A micro wedding downsizes the guest list to a small number that can be counted within a single picture frame. In such weddings, the number of people attending in person is less than fifty. Sometimes a small event may not cross twenty members including the photographer's team. A micro wedding is a solution for most people who are looking to avoid a large-scale celebration for any reason.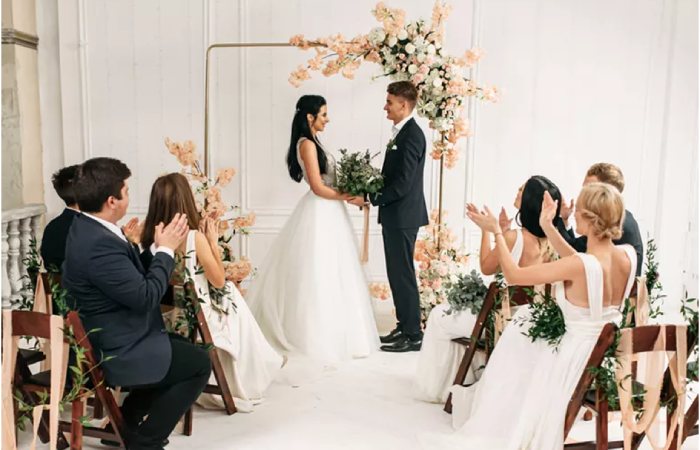 Here are some categories of people who opted for micro weddings and are happy with their decision:
The minimalist couple who don't like wasting anything and like to recycle everything
A couple who cannot afford large weddings owing to their job situation
A couple who has estranged relationships with their family and prefers a quiet affair with some close friends
A couple who turn cold feet when they have meet and greet a great uncle whom they are meeting after twenty years
Someone who values intimate family gatherings with just the immediate folks to celebrate their love and unison
The advantages of choosing a small-scale celebration will be prominent when one can be flexible with ceremonies they want to keep and minus the ones that are either redundant or out of budget. A couple can see where their money goes if they scale back the celebration to a manageable, comfortable, and intimate level. There is scope to make some incredible memories with every guest who attends a micro wedding.
If the idea of a micro wedding has caught your interest, then look here for tips to make it more interesting:
People still value something that you make with your hands more than something you buy off the shelf for them. Keeping this aspect in mind, one can sit down and design their wedding invitations and send handwritten notes to the invitees. This only adds a soft touch to the whole process of invitation. The gesture represents a warm welcome toward the guests.
When weddings are small they can be held practically anywhere. By adding an element of nostalgia to the venue, several guests will feel included as it represents a chip off the block. For instance, if a couple chooses to stage their micro wedding in a beach house where the bride's family spent vacations or at the family home where the groom's cousins spent their summers, there will be more people who will connect and resonate with the idea.
The decor, food, or seating arrangements, everything can be more appealing with a slight thoughtfulness. You can include the family favorites from both sides in the menu and throw in the grandmother's recipes for a pie to make the guests feel at home.
Since weddings are between two individuals, micro-wedding seating can be arranged in a manner where both families get to know each other well. In this manner, the guests will be taking a seat and not sides in your wedding.
You can either add a welcome or return gift with a personalized hamper of goodies. It is possible to arrange a little something for people of all ages.
A micro wedding may or may not be a traditional one in every aspect of the ceremonies. If you feel the crowd will enjoy a sit-down dinner, then plan one. If a traditional dance can be replaced with a more peppy high-energy dance, go for it. Arrange for games between the girl gang and the groom's besties for more frolic. Overall, make it a fun day.
Conclusion:
Micro weddings happen all the time, it is only now that it is trending and taking social media by storm. So next you see a cute Instagram reel about a couple who decided to save on their wedding expenses with a cozy affair to support the climate change cause, remember even you can do it.